Disclosure: This is a sponsored post as our Money Momma, Jamie was invited for a meal with her family.  All opinions expressed are her own.
Tip #3 – Make it a guy thing… or a girl thing

But DON'T bring everyone. Yes, I meant to say that.  Not everyone in every family likes the same types of foods, making it difficult to expand the list of restaurants that work for your home.  This actually can be turned into a "special" experience and save your family a little bit of money in the process.  (T) loves to eat ribs and always begs me to go to Tony Romas on kids eat free night (Tuesday).  I am not a huge meat eater and I don't even have to look at a menu to know that there is not one single thing (R) will like.  It's a dilemma that every family has.  No one wants to spend money dining out if not everyone is going to love the food.  The solution… make it a guys night!  Or a girls night… but don't worry about splitting the family!! (R) and I will stay home, eat grilled cheese and do each others nails.  (T) and (S) are off to the all mighty dinner experience at Tony Romas.  The best part?  Both kids think they are getting special time with us while we are only spending HALF of what we would normally spend on dinner.  Since Tony Romas runs PLENTY of family specials all week long, it seemed fitting that the guys make a trip there during the Money Mommas dining on a budget series. (for purposes of writing this piece, I did attend the "guys night")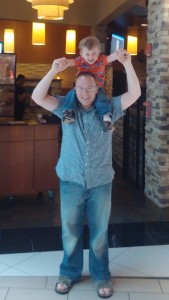 We were seated right away despite the fact that we arrived at prime dinner time on a Saturday night. (S) was presented with a Kid's menu that came with a pack of crayons so he could work his way through the pictures and games. I was pleasantly surprised by how big the booths were!  I was carrying 3 people's umbrellas, my usual mom bag, and a big bag of pillows that we had just purchased.  Everything fit with lots of room to spare.  The restaurant was packed with families.  It was like a date night where kids are allowed.  The atmosphere was festive yet calm, with a view to people watch in the mall if you desire. The wait staff was great with little (S) (age 3), even pausing to let him place his own drink order (lemonade of course).  All of these points are great,but the real highlight of Tony Romas is basic… the food is delicious!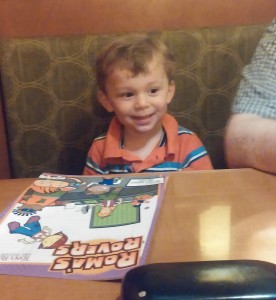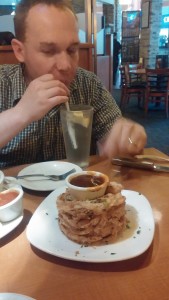 When ordering a main entree at Tony Romas, 2 sides come with the meal AT NO EXTRA COST!  This is unusual for a steak house.  Frequently, the sides are sold separately at an ala carte price.  We asked them to bring out the sides on separate dishes so we could all taste a little of everything (no problem). (T) and (S) had a grand ol time eating their ribs together, which I should point out were two different types of sauces…one on each end.  They actually have 7 sauces to choose from and (T) had a difficult time making up his mind!  I'm not sure it really mattered though as most of the sauce wound up on (S)'s face as (T) taught him to eat ribs like a "man".  Tony Romas is well known for their steaks so I had the filet and I was not disappointed.  In fact, I ate almost the entire thing.  So much for me not being much of a meat eater.  By the time I looked up the boys had finished a full rack of ribs and were wiping their hands and mouths with the warm, wet towels our waitress had brought over.  I'm not sure where either of them found room to put it all considering they worked their way through a plate of calamari and an onion loaf earlier.  That was the first time (S) had seen an onion loaf and every time he took a bite he clapped his hands.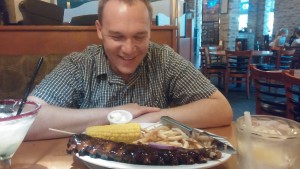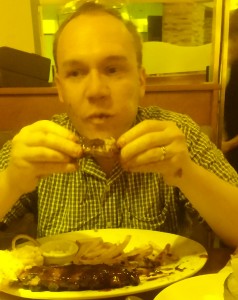 The desert menu says it's mini desserts but their was nothing mini about them!  I can't even imagine how big the full size must be.  (T) and I devoured the red velvet cake, New York style cheesecake, and chocolate brownie in no time.  All the of the cakes at Tony Romas are from Juniors bakery.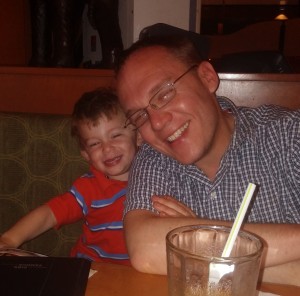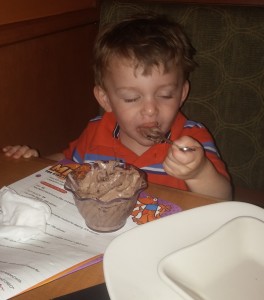 Tony Romas is now a definite family pick when we are looking to go somewhat more upscale, remain family friendly, and still know we are getting great value!  Remember kids eat free every Tuesday and there are daily happy hour specials during the week.
Want to give Tony Romas a try?  Now is your chance to win!  Go to Rocklandnymom FB page, like, comment and share this post (or comment here) for a chance to win $25 toward a meal at Tony Romas!