Disclosure: This is a sponsored post as our Money Momma, Jamie was invited for a meal with her family.  All opinions expressed are her own.
Tip #2 – Try new places when the kids can eat for free
Every family has one; the picky eater.  The one you have to always make sure you have a granola bar and apples for just in case they would rather starve than eat whatever you have given them for dinner.  In our family, this title belongs to 4 year old (R) and most meals end with me sweating and her telling me she isn't hungry.  This puts a damper on any type of new dining experience because we do not want to pay for a dinner (R) will refuse to eat.  Our solution to this predicament?  Try new places on the nights kids can eat for free with a purchase of an adult meal.
 (R) my picky eater.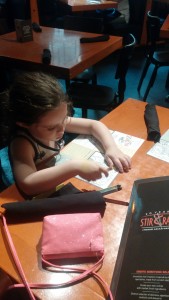 This past week we put this plan to work as we went for the first time to Stir Crazy in Palisades Mall.  This experience can only be described as fun fun fun!!!  From the cool Asian decor to the fact that the main meal is a create-your-own stir fry event that the customer WATCHES them cook, this restaurant just screams to families for a great time.  There are weekly chances to try it as kids EAT FOR FREE every Tuesday and Thursday with the purchase of an adult meal and beverage.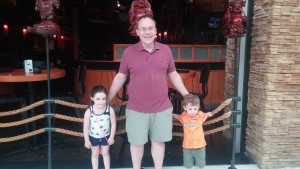 When we arrived the first thing we noticed were the stroller parking and special high chairs that accommodate infant carseats.  This is such a convenience for us when we have the stroller for (S).  It also proves to me that they are prepared to serve young children.  (R) and (S) had a great time running from statue to statue trying to count how many Buddha's they could find. We were a little bit worried about a melt down because (R) had been to 2 birthday parties that day and was exhausted.  (R) was completely occupied the whole time watching the chefs cooking through a glass window that she didn't even remember that she was tired.  The drinks the kids ordered came with giant twisty straws that they had to figure out how to untwist.  This was another child geared detail that we all enjoyed.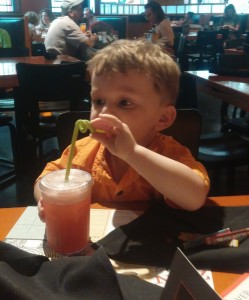 As the kids worked on their straws, (T) and I looked over the menu and listened to our waiter explain the dishes. Suffice it to say, there are a number of unique dishes on this menu that cannot be found elsewhere and it turns out EVERYTHING on the menu can be customized. The happy sounds coming from our fellow diners confirmed that the food was as good as it looked.  As always, I paid close attention to the kid's menu making sure that there was at least one thing that (R) might eat.   (S), being a more adventurous eater, chose the ninja noodles (which he called ninja turtle noodles) and we convinced (R) to take a bite.  I was ready to get right into our main course (which could be called an event) but (T) was dying to try the crazy shrimp appetizer.  This dish is such a customer favorite that when it left the menu for a short time, it had its own write in campaign to bring it back.  (T) says he can tell why people missed it!
(T) enjoys the shrimp!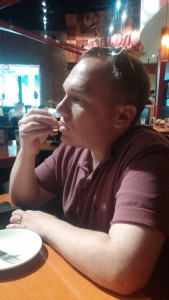 Ninja Noodles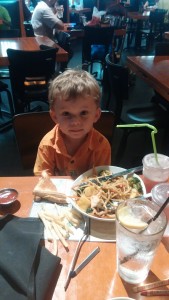 Finally the main event!  Our waiter arrived with our personal woks and we made our way to the stir fry bar.  We piled our woks high with fresh vegetables, multiple Asian treats, and a variety of sauces.  Creators also get to choose their meat and select a base (rice, lomein, pad thai noodles, etc), all of which were as fresh as the vegetables.  Then it's show time!  The Chef takes over and the cooking, complete with exploding fire, takes place right before our eyes.  We held up (R) and (S) who were mesmerized by the show.  (R) was so enticed that she asked to eat some of my noodles when we got back to the table!  We could tell the kids had fun because as we were packing up to leave (S) went running up to the table next to us and informed them quite loudly that "Budhas have big bellies!!".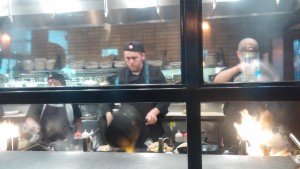 Stir Crazy is an excellent place to try with the whole family and T and I will certainly be back…  on a Tuesday or a Thursday when our kids eat for free!
Stir Crazy is giving one lucky RNYM reader a chance to create their own stir fry. For a chance to win a $30 gift card to Stir Crazy go to Rocklandnymom facebook page, like this post, comment with STIR FRY and share this on your timeline.
Stay tuned for Jamie's full list of both free and kids meal deals due out soon!!!