Disclosure:  This is a sponsored post as we were invited on the Dino Days Train Ride.  All opinions expressed are my own!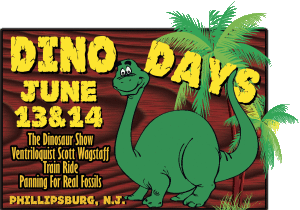 This past weekend we were lucky enough to attend the Dino Days Train Ride at the Delaware River Railroad excursions.  When we first heard about it we knew that it would be a perfect fit for our family.  (A) has really taken an interest in rocks and digging, and (E) is always happily right behind.  She adores dinosaur train so this would be an opportunity to enjoy an activity that they would both love.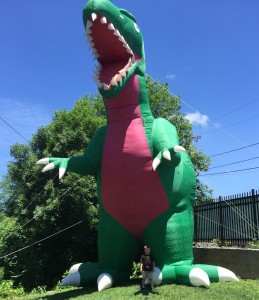 The trip was a quick hour and a half down the Garden State.  When we got there we were handed a map that showed where to easily park (for free) along with a list of local restaurants that we could eat at.  When we walked down the hill we saw all of the wonderful activities that we could participate in.  We decided to hit those after the train ride as they were loading up and moving out within the next ten minutes.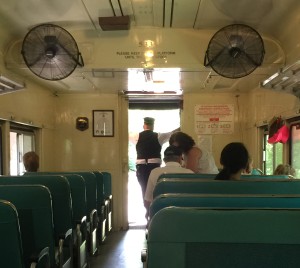 The train was lovely.  Clean and old fashioned.  (A) was very proud to be able to recognize that it was a diesel train.  The conductor was lovely and came around to chat with everybody.  During the ride there was fantastic narration about the history of the train line.  It was super peaceful.  The view of the Delaware River was great.  There was also a bathroom (very important) and a souvenir shop on the train (with refreshments if you needed).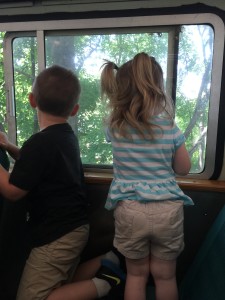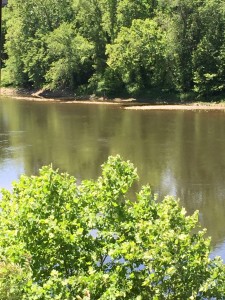 Once we reached our location we were directed over toward the mine and given plastic bags to collect our minerals in when we completed the exercise.  There was a tour that included some more history of the mines, as well as some humor (mostly for the parents) and some action (the kids loved it).  Once the tour was complete each person received a bag of dirt (and minerals) to learn to pan with.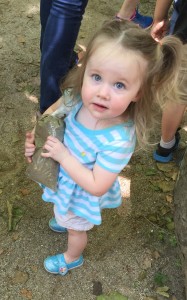 We have done this several times before at fairs etc, but I must say we received more minerals than ever before in these bags.  We enjoyed it so much RNYD went and purchased an additional bag of Fossils so that he and (A) could do it again and then identify the fossils.  Available for purchase at the mine store were these additional bags as well as some more refreshments etc.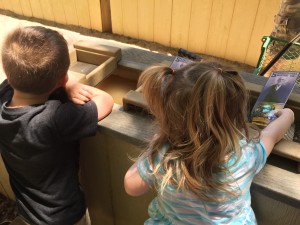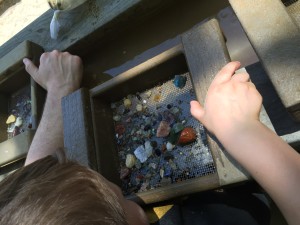 What we came across next was very special and worth mentioning as it left a lasting impression on (A).  There was a group of Doctoral students from Temple University who were conducting research for their dissertations on site.  They set up an actual Archeological dig and were searching for artifacts.  The group had set out a bunch of artifacts that they showed the crowds, what they were and even gave demonstrations on how some were used.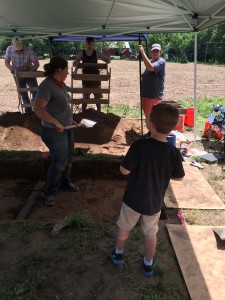 We got to ask questions and see how they used sectioning, measuring and sifting tools for their work.  They even let the kids help them to sift through the dirt to find items (they LOVED THIS)!!!  After spending a long time doing that they even let (A) begin to help them dig and use their tools to carefully dig up the space.  He was really into it and helped them to find an arrow head as well as a knife head.  Although he was unable to take it home (it is now a part of their dissertation), he was able to take a photo with it, and has the memory.  It also sparked an interest.  He's even talking about becoming an archeologist, how neat is that?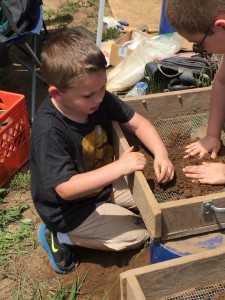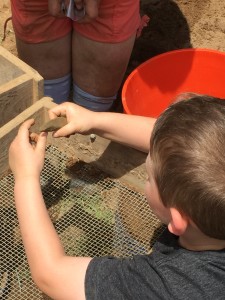 We boarded the train after that to go back to the main area in time to catch the Paleontology show which was really cute and informative.  I was surprised and happy to see how much (A) knew about dinosaurs from watching Dinosaur Train.  This show was followed by a silly ventriloquist who introduced us to his different friends.  He made the kids laugh and really got them engaged.  In this area there was also refreshments, a bounce house, a bubble station and souvenir stand.  We never even made it to the bubbles or bounce house.   If I had realized we would have gone even earlier.  I was figuring on about two hours of fun (tops) and a ride home, but we boarded the train at 12:30 and when we left at 4:15 we were exhausted without even visiting every attraction.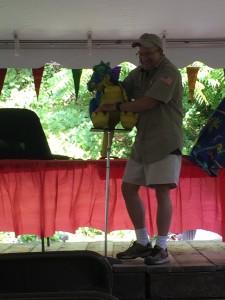 We stopped for a quick dinner on the way home and both kids slept the entire ride back (always a good sign).  When we arrived home (A) wanted to go through his minerals and fossils and identify them, very fun.  He was able to match them to their indicator on the pamphlet and we spoke about each one.  He keeps telling everyone what an amazing time he had!!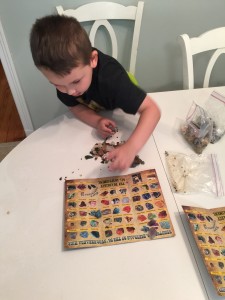 Although this event was one weekend only the Delaware River Railroad excursions has all sorts of amazing events that they do throughout the year (click here to see).  Worth mentioning for our kiddies is the Thomas experience ((E) is a HUGE fan so we may have to attend that one too), and the Great Pumpkin Train, and The Polar Express (which are all being added to our events page).  All of these tickets sell quickly so be sure to plan in advance.