Disclosure:  The links in this post are to products through my affiliate link.  Although I was not compensated for using these items, I would be should you choose to purchase these items through my link.  All opinions expressed are my own. 
Firefighter Birthday Party – June 2014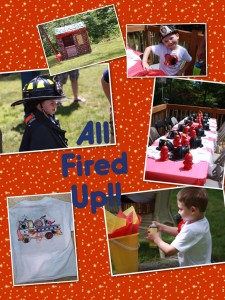 As I begin yet another year of marathon Birthday Party Plans, I thought I would re-share last years post, and make some room on the parties page for the new event to go when its done.  Enjoy!!

(A) Loves anything fire related as you know from my review of the FASNY Fire Museum (click here).  Last year we did a Superhero Birthday (Click Here) and we had to choose a new theme, so we of course went with firefighter training.  My brother is a firefighter in Westchester so at least I had someone experienced to help me make up the activities!
 *Click on the purple words for links directly to the items you might want to purchase.*
Invitations – I am an invitation fanatic, I couldn't find any that I loved from my usual sources so I chose a digital download from Etsy.  I absolutely love how it came out.  I always take these to Staples and have them printed on Business Card Matte Paper.  I like the weight of the paper, it's not too shiny, and it looks nice.  I also have them cut it for me (there are things even I won't spend time doing).
Decorations-This is of course one of my favorite parts!
Paper Goods- (tablecloths, utensils, cups, napkins, plates, star balloons) Dollar Store, Christmas Tree Shops.

Photo Prop

– Kids could stick their faces in and take a picture looking like a real fireman.

Tissue Paper Balls

– Christmas Tree Shops, Oriental Trading Company, AC Moore, Michaels, or follow the link. They really look like fire on the wall which is awesome!

Trucks with Hydrants-

I put some rocks inside of each truck to keep it on the table.

Extinguisher Drink Dispenser

– THEY LOVED THIS!!! (A) is still trying to use it on a daily basis.

Free Printables

– I found this to be super useful. At the end of the day I ended up using the "Happy Birthday" banner, and the water bottle wraps. I had originally printed out the certificates to hand out as well, but really.. I think it's cute but parents have one more piece of paper to throw out. So I just printed one for (A) and moved on. If you can't find printables for free, you can purchase on Etsy like I did for the invitations, but I think it's not necessary.
The table for kids set up.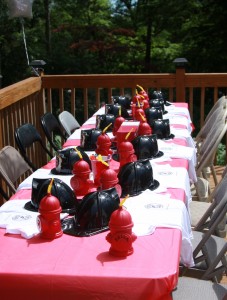 Games-I made an itinerary (type A personality), for the party which outlines each of the games that I used.  Included in the games are the following items:
Obstacle Course- in two lines, kids had to put on the hat, zig zag through cones while their siren (voices) were going off, crawl through the tunnel, knock down the solo cups with the water packs, go back through the tunnel and then run to their next friend who starts again. 
Fire Hats

– I had these at the house because (A) already had the outfits at home, but they can be purchased online as well.
Cones
Solo Cups

2 Water Backpacks

– these will not go to waste, as (A) and his father (affectionately named RNYD) run around squirting one another frequently.
(A) drives the truck (runs through cones making the siren noise).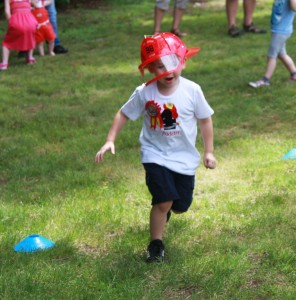 (A) crawls through the tunnel.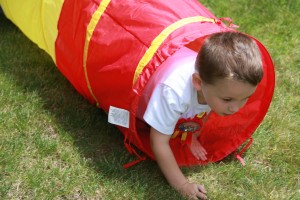 (A) puts out the solo cup fire with the water pack.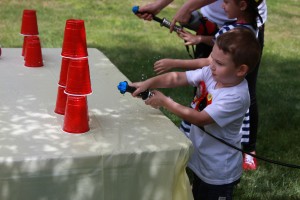 Put out the House Fire- participants use water balloons to wash the shaving cream off of the house.  Bonus was that I used the tissue paper fire, which also disintegrated and fell to the ground, which really helped with the visual idea.  You need a LOT of balloons, they go fast.  ( I let RNYD and a friend of his spray the house with the shaving cream, they really liked that too).
Shaving Cream
Water Balloons– buy at dollar store, I won't even link it here (but when making in advance, be sure to put them in a bucket of water so they don't pop themselves!)
(A) in the process of throwing a balloon at the house on fire.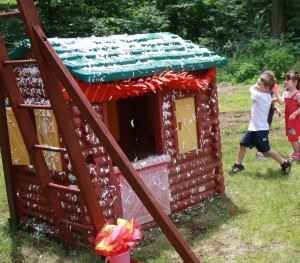 Bucket Brigade- kids use solo cups to move water from one area to another.  They work as a team to put out the fire in the second bucket.  For older kids they could stand in a  line and try to do it by passing the water, but these guys just had to run… and it was fun to watch :o)
Solo Cups
Kiddie Pool- I had this in the garage…
Plastic Tubs – I had these in the basement and put them to good use, but you could use one, or any other container you have sitting around the house.
(A) fills his bucket (solo cup) to put out the fire.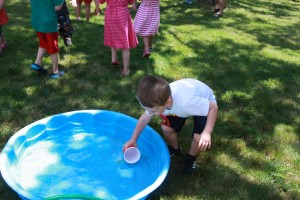 Put out the Fires- buckets with tissue paper placed around the perimeter of the yard so kids can run and put them out by spraying them with the silly string.
Silly String –Dollar store, I purchased blue, green and purple, it was very cool.
Buckets/Pails (had a ton lying around the house, but if you don't then again, they are available at the dollar store, AC Moore, or Michaels for about a dollar each).
Tissue Paper (yellow and red)- these also look great as décor before the kids run around "putting them out".
(A) squirts the fire (tissue paper) with his extinguisher (silly string).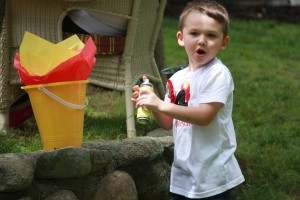 Pin the splash on the Fire- we didn't get to this one, but it's an updated version of pin the… on the…. The intention was to do it as a pair (firemen work together).  I made my own fire poster on foam board but there are some versions you can purchase (follow the link).
Ready and waiting, but we ran out of time.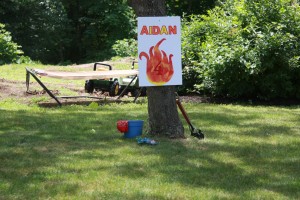 Stop Drop and Roll Freeze Dance- an updated version of freeze dance, when the music (I used superhero music for the whole party) stops, the kids have to get down and stop drop and roll.
Favors-I don't love goody bags.  I hate to admit it but I usually take out the bubbles and the pencil and then throw out the rest.  Especially because of little (E) who still puts everything that she can find in her mouth, there is just no need for it.  Instead, I opted for some take homes that I thought the kids and parents would love.
Fire Hats– Can be purchased anywhere (amazon link provided), but your local station may be willing to give you some of the ones that they use for fire prevention month in October.
Hydrant Cups– Loved these!  I put the names of each attendee on the wheel on the front so that the kids could use them and tell apart all day! (A) is still drinking out of his a week later.
T-Shirts- I run my own soccer school and have a great relationship with a local printer named Artwill Group.  When I was trying to think of favors I contacted them to see if printing some shirts was an option.  They did one better!  They suggested white shirts with an outlined design on them, and having the kids color them in with fabric markers!  It was awesome and the kids all have a cool keepsake to take home.  In honor of the idea, they are offering an exclusive package to our readers which includes the design, 25 white shirts, and fabric markers just mention you got the idea here :o).
(A) and a friend work on their shirts.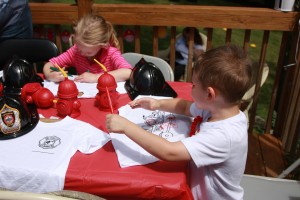 (A)'s completed shirt.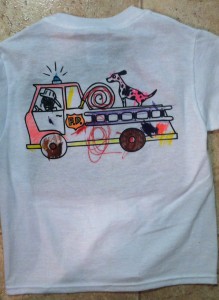 Food-I didn't go too crazy here, let's face it, 4 year olds are not connoisseurs and I decided that part wasn't really where I needed to focus my energy.
Veggies – Peppers (red, yellow and orange), Baby Carrots, Cherry Tomatoes (red, yellow, orange) and dip. Chips (regular potato and tortilla) with mango salsa.
Pizza
Cake (yellow with vanilla frosting), Cupcakes (chocolate and vanilla with chocolate molded fire hats on top), and fruit salad.
Water, Apple Juice and Soda (for the adults)
The party was a huge success and (A) actually thanked me for the best party ever (my heart melted).  I was glad to have done it, but am even more glad that I put two weeks between his party and (E)'s first birthday bash, because I need some recuperation time!!!