Disclosure:  This is a sponsored post.  All opinions expressed are my own. (Photo credits to the Englewood Hospital Marketing Department.)
Having a baby is a beautiful experience.  It should be.  It is the most life changing event that I have ever been through, twice.  I remember being so scared when the test came back positive that I was having a baby.  I remember being so scared when I went into labor with (A).  All if it is so exciting and new and wonderful, and completely horrifying at the same time.  I look back and think about what could have possibly made my experience a little better, or make it that much more amazing for new mommies to be and one thing comes to mind.  Atmosphere.
When embarking upon something as amazing as childbirth, the setting should match the miracle.  What if, instead of walking into a place that screamed "Hospital" you could quietly ride a beautiful elevator into what looks like a luxury hotel?  What if for the next few days, you could have room service, and serenity and have nothing to worry about except bringing that wonderful life into the world, and beginning the next phase of your journey together?  That's what the new Englewood Family Birthplace had on their mind when they designed their new facilities.  A setting that befits the miracles that happen there.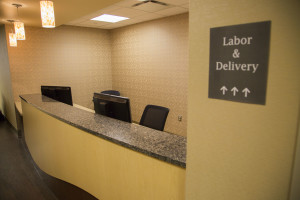 I am often asked where the best hospital to deliver is and for a time I thought, aren't they all the same?  What I have found…far from it.
The rooms are like stunning apartments.  I was floored when I entered.  You would never know that you were in a hospital.  Don't want to look at the monitors?  They have handsome cabinets that can hide them in an instant.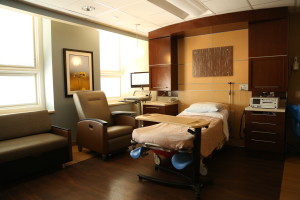 Want to watch the beauty of the birth?  The mirror comes right down from the ceiling.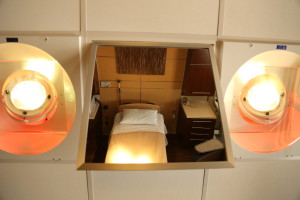 Looking for a relaxing bath while you labor?  Many of the rooms have soothing tubs within.  Process taking longer than expected?  No need to bring in a cot, or have your loved ones sleeping on an uncomfortable chair.  There are full size futons (seriously extra-long for tall daddies), that just pull out and turn into a comfortable bed.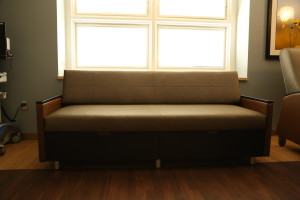 Your baby also has a beautiful room to stay in should you choose to have them stay in the nursery.  At Englewood its your choice.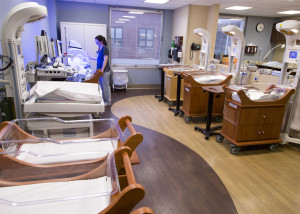 Englewood spared no detail.  Not only did they take into account the needs of mommy, baby and daddy, they have even gone that extra mile for the rest of the family as they wait in the lobby.  There is a charming area set aside for loved ones who are awaiting a new arrival, complete with flat screen TV, comfortable seating, and even a charging station for your phone should your wait time exceed your battery power.   When they need a break, there is also the amazing cafeteria (really it's more like a café) downstairs to grab a meal and stretch your legs.
The charging station available to family members while they wait.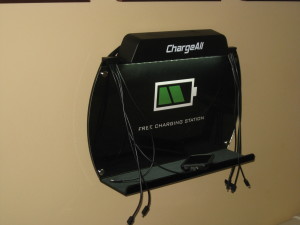 After baby is born, aside from the top notch medical care available, they offer other services that not all hospitals think of.  They have an exclusive contract with a newborn photographer who takes some of the cutest photos I have ever seen.  One more thing to check off the list and not have to worry about afterwards.  Another adorable amenity, there are little red wagons that you can use to bring your newborn gifts to your car with.  These wagons double as an awesome way to bring big brother and sister along and make them feel included.
Some of the adorable photos taken by their exclusive newborn photographer which line the halls of the birthing center!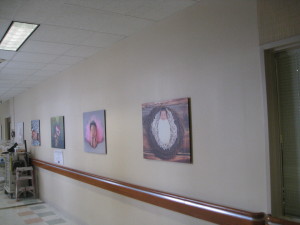 Who doesn't love a wagon, such a cute and special detail!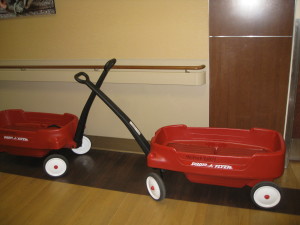 Having your first child?  Having a second or third and maybe need a little refresher (let's face it we are programmed to forget portions so that we do it again)?  Englewood can prepare you for all of that too with their Childbirth Education Classes.  These classes cover everything from what to expect, breastfeeding, sibling prep, yoga and more.  These classes have a fantastic reputation and are very affordable.  There are also resources available post-partum, like access to their lactation consultant, and breast-feeding hotline.  Additionally, during my tour it was mentioned that they also have several different "events" for expecting families that are free of charge and open to the public (which we will be posting on RNYM for your benefit).
Having a baby is an experience beyond compare.  Doesn't matter if it's your first or you're fifth.  For both of my children I planned incessantly.  I read for hours.  Englewood has done a lot of that for you.  They have planned for you.  Every precaution has been taken to make your experience the beautiful memory it should be.  It even makes me want to have a third child just to experience it!
To schedule a tour of the Family Birth Place which are available on Saturdays and Sundays at 1:30 please call 866-980- EHMC (registration is required).