Disclosure:  This is a sponsored post as we were invited to DiggerlandUSA for the day.  All opinions expressed are my own. 
Last year we had the pleasure of attending and reviewing Sahara Sams Oasis. We had an outstanding time (see our review here).  I was so excited when we were invited to come and check out DiggerlandUSA as well.  Not only does it sound really cool, but my son is, and has always been OBSESSED with construction vehicles! What a day we had.  My husband who doesn't really get excited about much went on and on about what a great family day we had, and he (along with the rest of us) smiled from ear to ear the entire time. Interested in sharing the experience with your family (see the bottom of our review for a special offer)?
My most important piece of advice is that you measure and be sure that your kiddos are 36" or taller before you go.  (E) is 34" and so she narrowly missed out on the majority of the experience.  She still had a blast, but when (A) was doing something that she couldn't she was slightly annoyed.  The good news for all of us is that it means a trip back when she meets the height requirement (no arm twisting needed there).
Let's address the most common questions:
Jogger stroller was perfect
Food issues you can bring it and leave in car, you may re-enter all day.
Baby changing stations in women's bathroom.
Now is the perfect time to go, it's not too hot and you can avoid lines.
As with most of these attractions, go early or late in the day to avoid crowds.
I barely even know where to start.  Upon entering we found that all of the necessities were centrally located.  Bathroom, food, gift shop are all right when you walk in.  This is the same area where you pick up the barrel train.  Children under 36" can ride this as can bigger kids (even RNYD gave it a try).  (E) and (A) rode it at least 5 times and (E) especially never wanted to get off.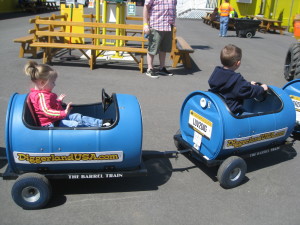 All around the park there are rigs to drive and ride.  There are amusement rides made out of different construction vehicles.  (A) was in his glory.  I loved watching how serious he took it when he was operating the machines.  I couldn't believe how well he could drive!  He looked so proud, and so grown up.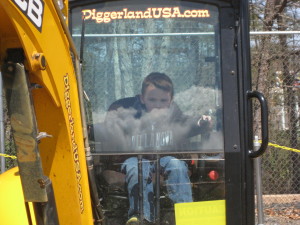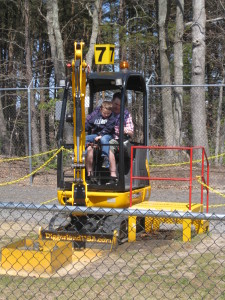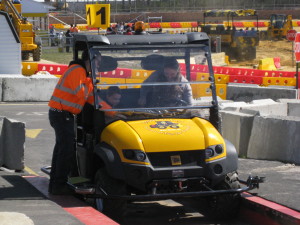 His favorite parts aside from driving the machines was the SPINDIZZY.  He went on it 3 times which was huge because he hasn't really been on many rides.  I had no idea that he was such a risk taker!!! After his third ride he actually asked the operator if we could put one in our backyard (no we cannot).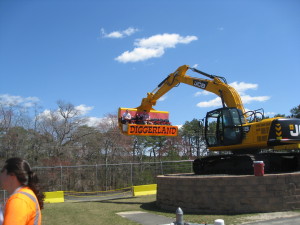 One of the things I was very impressed with at Sahara Sams Oasis was the way the lifeguards conducted themselves.  They were all so lovely, and so serious about their jobs (rightfully so).  I felt confident that my 1 year old and my 4 year old were safe and we could enjoy ourselves.  Diggerland can boast more of the same.  I was really impressed at the people they had working there.  They were so nice, so patient and so quick.  When someone had difficulty (say driving the equipment) they were right there helping them out.  They were so professional.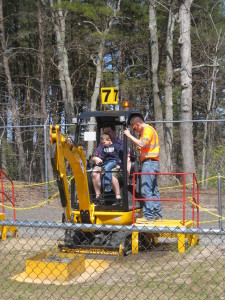 (E) really loved the playground, and it's a great space to go and work off some of the excitement. We stopped there twice during our 6 hour visit.  It was great for getting out the energy that was built up while waiting on lines.  Speaking of which, the lines moved rather quickly.  There is a good amount of space on each attraction so they weren't very backed up.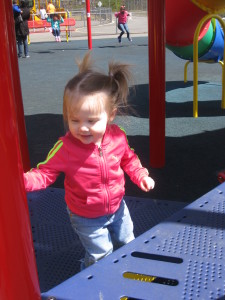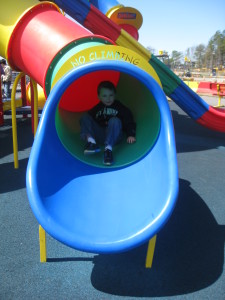 We adored DiggerlandUSA and will absolutely be back, probably sometime in the fall when (E) meets the height requirements and we can do a whole weekend away to take advantage of both Sahara Sams Oasis, and DiggerlandUSA (which there is a special rate for).  When we went to Sahara Sams Oasis it was the middle of the summer, we had a blast but it was a little crowded.  Now is an AWESOME time to go, I would also imagine that early fall is as well (that's our plan).
**For a limited time (through 5/17/15) use the code RNYMOM5 when you purchase tickets online to DiggerlandUSA and/or Sahara Sams Oasis and receive a discount off of the full day price!! **