Disclosure:  This is a sponsored post as I was invited to a class at Fitness Kickboxing.  All opinions expressed are my own.
Kickboxing…. It's not something I ever saw myself doing.  Working out yes, kickboxing no.  It just never registered with me as something I might want to try.  So, naturally when Fitness Kickboxing invited me to try out a trial session (actually 3 sessions, I'll explain later) I was intrigued, and nervous.  As a soccer player I am admittedly spastic with my hands and arms in general and I was afraid that 1. I was too out of shape and 2. I would look really stupid.
Saved by one of RNYM's newest employees.  Ashley has been attending Kickboxing since October, and she has lost 21 lbs working with Amir.  This didn't get me off the hook mind you, I still had to do the class (Amir wanted me to know about it first hand).  That's ok, admittedly I NEED to work out.  But I took pictures of her doing it because she is experienced, and well, I rarely let anyone else touch my camera.
Meet Amir.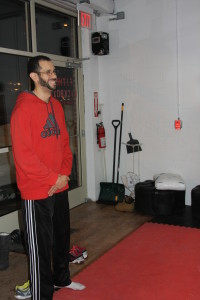 I can say with confidence that I am super glad that she got me to come.  I haven't felt this strong and aware of my body in a long time.  I am actually going back this Wednesday for my second of 3 sessions.  One of the things that I was really nervous about was looking stupid in a class full of people who had been doing this a long time.  What is nice is that Amir and the attendees have created an atmosphere of support and family.  There was no competition to be the best, everyone was friendly and helpful.  When I asked if I could take photos, they all said no problem, I took that as a good sign, and they weren't worried about having their pictures taken all sweaty.  My kind of people.
A photo of the class as they work on some strengthening.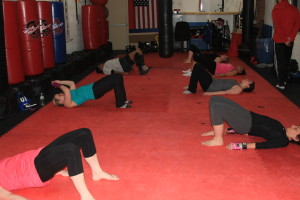 Training felt a little like college preseason.  Muscles burning, I may have wanted to throw up once or twice, but it was different.  Instead of my coach yelling at me to move it or push harder, Amir walked around and encouraged us in a positive manner and even offered modifications for those of us who were terribly out of shape and had difficulty with some of the positions.  Class was fast paced, and there was always something to do.  Amir was targeting (at the classes request) bums and abs.  When we weren't on the bag or gloves, we had exercises to do.  It was a lot like circuit training, you work all the necessary parts but in different ways.  I like that, no time to get bored.
Ashley at the bag.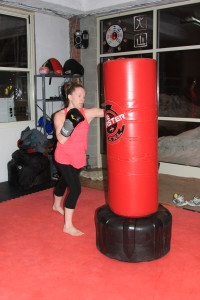 Water breaks were readily available, and as we worked Amir walked around encouraging us and correcting our form.  The encouragement became really important toward the end (I never knew that punching or kicking for 30 second intervals could be so exhausting).  At the end of class everyone high fives to say well done (it sounds so cheesy written down, but it was awesome and relevant).  It totally reminded me of the way my collegiate teammates cheered one another on, a real family.
Amir gives Ashley a hand while I take some photos.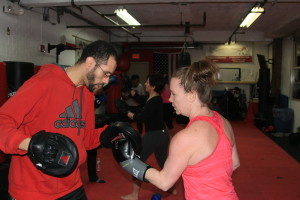 It wasn't until class was over that I found event more really great information about Amir and his program.  This is when I was informed that the trial is actually 3 sessions.  What does he charge for this intro? $20, not $20 per session, $20 for all 3.  The reasoning behind this is that although I feel good after 1 class, apparently you feel soooo much more amazing after 3 (I will keep you updated).  This is when I got really nervous, (A) had been upset that I had to leave in the evening and I told Amir so.  So he invited him to class.  Yeah that's how family oriented he is.  Moms and Dads are encouraged to bring their kids to observe, and read or color on the side.  He feels it is important for them to observe their parents taking care of themselves, and he is right.  In fact, both Ashley and I will be bringing our kids tonight.
Amir's services don't stop there, he isn't just there to train you and send you home.  His philosophy is that you have to train the whole person.  You need to work on positive thinking, and change the way you eat, exercise alone won't make the body changes most people are looking for.  This makes me excited, because a good workout always makes me want to eat better, I start feeling good.  Amir does it all, he helps with nutrition plans, offers eating advice, measures and takes pictures of you to help you along the way.  In fact, he is so full service that you can send him pictures of what you are eating for him to comment on.  He utilizes his social media accounts (twitter, Instagram, and FB) to promote healthy living and encourage you on your way.  Last week he had to cancel a class for snow, and posted Homework for those who wanted to get a good workout in anyway.
Ashley and I take a moment to pose together after class.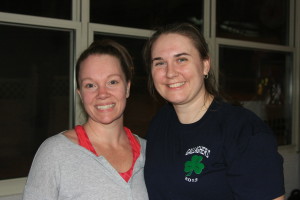 I stayed behind and spoke with Amir for an hour but it could have been much longer (I had promised (A) that I would be home to tuck him in so I was already in trouble).  I love what he was saying.  Positivity from all around.  Eat well, live well, train well.  Teach your children to do the same.  Come work together as a family.  All right on, all exactly what I personally need.  I am looking forward to tonight and my next session.
If you have been on the fence about starting an exercise program I highly recommend Fitness Kickboxing.  It's difficult to really explain how I feel, but it is way different than I used to feel when I went to the gym on my own to work out.  I feel like I have purpose.  I have teammates.    I'm looking forward to my return as opposed to dreading going and doing the same old thing.  I am excited to see what we will do today, and if my stamina has increased.  OH speaking of which, for those of you who love those crazy running races, he has a Spartan class too.
Amir's Newest Special!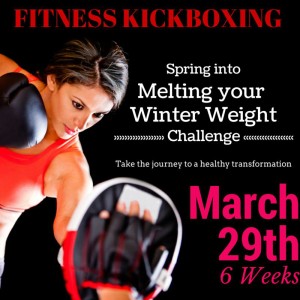 How do you get started??  Just come down to a class (click here for full schedule) and sign up for a 3 class trial.  Even if you only stayed for the 3 classes $20 is a heck of a deal, but I think you will end up sticking around for more.