Disclosure:  This is a sponsored post.  All opinions expressed are my own. This article is meant to be informative and make people aware of the programs offered at the JCC Early Childhood Center.  It is as always up the parent to do their research and choose the appropriate facility for their needs.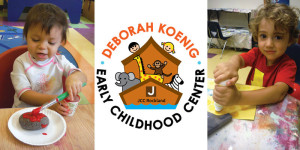 I had the extreme pleasure of going to the JCC Rockland in West Nyack earlier this month to meet Miriam Pedler the director of the new Deborah Koenig Early Childhood Center.
Its a big responsibility to be asked to check out a school or childcare and I was admittedly nervous.  I was immediately put at ease.  I decided to approach the situation as if I myself was looking for a place for my own children.  How better to do that?  I asked you all what you look for in an early childhood center.
Health and Safety-  As parents in the modern world this is a huge worry even though it used to be the "safe" place that we sent them.  Miraim has of course taken this into consideration.  The entrance to the Early Childhood Center is locked and you cannot enter without being buzzed in.  As far as cleanliness was concerned, when I took my tour it was extremely clean.  Furthermore, as I am obsessed with good habits of cleanliness I am happy to report that while I was there, I observed a teacher helping a young man blow his nose and then wash his hands (she asked him what he needed to do next and he told her).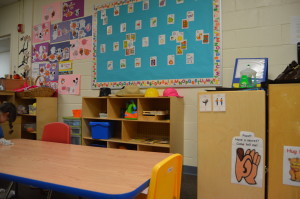 Curriculum– Miriam is insistent that people know her program is not babysitting (she's right).  There is great evidence of care by the teachers, I got to poke my head into the infant room where a teacher was rocking a baby girl like she was her own, but also evidence of curriculum being followed and educational goals being met.  I saw story time, arts and crafts (literacy themed), and work displayed with more of the same.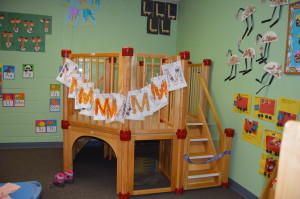 Your Needs– Miriam is so in tune with parents and interested in creating a caring environment that is easy for parents, that she created a special "parking area" for your child carriers and strollers.  Your stroller is parked under your baby carrier for ease of entrance and exit.  Oh and the way they hang, means that your carrier isn't touching the floor.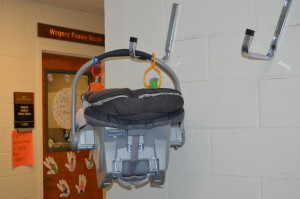 Communication– The staff sends home daily notes for their infants as well as regular text messages and pictures.  They have plans to switch over to an "app" where parents will be able to tap into real time information about their children.  There is also a newsletter that is sent home, and teachers give daily feedback as they see parents at drop off and pick up. Long story short,  I was impressed at what I saw.  I am confident that they would make the short list of schools I was looking into if I was currently searching.  It seems I am not the only one.  As it is still fairly new, there has been enough interest that they are working on building more rooms to accommodate the demand, because Miriam is adamant that the numbers in the room stay small and personal.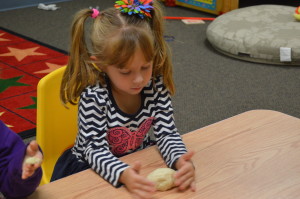 For more information about the Deborah Koenig Early Childhood Center at the JCC Rockland please contact Miriam Pedler at miriamp@jccrockland.org or call her at 845-362-4400.