Disclosure:  This is a sponsored post as Jamie was invited to visit Mountain Creek.  All opinions are our own. 
As any parent knows, traveling with a 4 year old and a 2.5 year old is usually the opposite of relaxing.  Just thinking about a long car trip or worse yet, flying with my kids, is usually enough to get me worked into a full tizzy before I have even begun the process of packing the entire family.  Of course we love the actual experience of being away and making family memories, but the travel part is just down right dreadful. This past weekend, (T) and I found our solution to this problem at Mountain Creek Ski Resort in Hamburg New Jersey (ps- did you know they have tons of fun for summer time too?)!

Mountain Creek resort is an absolute perfect get-away for families in the lower New York and New Jersey areas.  From my home it was roughly an hour and ten minute drive but we felt like we were literally miles and miles away.  There are several hotels to choose from but because of the close distance, Mountain Creek also makes an excellent day trip.  Since we wanted a real get-away experience, we chose to stay overnight at the Grand Cascades Lodge.  When we arrived at the hotel we noticed had a very Colorado type feel. (T) is an avid skier who has been to ski resorts all over the country and even he was commenting on how pretty the grounds were. (R) and (S) immediately ran up to sit by the fireplace and enjoy the views of the mountains while I checked in and was given an introduction to the different activities that would be going on throughout our stay (click here to check them out in advance).  There was so much to choose from besides just skiing that (T) and I had a hard time deciding what (R) and (S) would like the best. The room itself continued with the western decor and it overlooked an indoor/outdoor pool that was nice and warm.  Honestly though, I didn't care what the room looked like.  The best part of this room for me is that we COMFORTABLY fit 2 queen beds, a pack-n-play for (S), a changing area for (S), and all 4 suitcases.  It was also very clean with amazing tempurpedic beds.  The room was clearly designed with families in mind.
After dropping off our suitcases, the 4 of us set off to tour the hotel and have dinner in the Crystal Tavern, one of several on-site restaurants.  It was a fun walk we passed a candy shop and even let R and S pick out their dessert before having dinner. The restaurant itself is a little bit upscale, but still packed with families.  This was a comforting sight to us because it meant we were going to get to enjoy some good food and drinks and not have to worry if our kids were disrupting other diners.  The menu had something for everybody, including a great kids menu.  (R) and (S) got a big kick out of the chairs.  They were large and the restaurant uses big pillows as their booster seats.  Both (R) and (S) were pretending to be king and queen as they sipped their strawberry smoothies and ate their grilled cheese sandwiches (all those choices and that is what they wanted).  After dinner and dessert we headed off to an outdoor marshmallow roast for the kids around a warm camp fire right outside on the balcony of the hotel. There is also a family movie night with popcorn 7 nights a week.  There is no lack of child friendly evening activities. (R) and (S) both slept well (always a worry when away) and were up and ready for the ski lesson the next morning.
(T) fluffs Queen (R)'s pillow at dinner.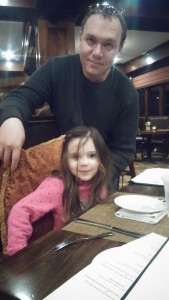 We headed around the bend for a ten minute drive to the mountains for skiing.  It was a very easy drive and parking was free.  Note to families with younger children:  the walk from the parking lot to the ski lodge is long and not stroller friendly.  There is a shuttle bus that can take you but the best idea is to drop off all the kids and equipment with one adult while another parks the car.
Once we got to the lodge we went to rent some skis for (T).  The line moved very quickly because everything is electronic.  In fact, one can reserve their rental and fill out their information online prior to even arriving at the lodge.  Once (T) was suited up and ready to ski, we went over to the Kids Kamp to drop (R) off for her lesson.  We were very impressed with the way Mountain Creek handled ski camp for the kids.  It was a drop off program which eliminated the stress for us of getting her into all of her equipment and out onto the slopes.  They fit her for everything, got her geared up, and brought her out onto the training area to get started.  There is both full day and half day camp to choose from.  Unfortunately, at age 2 and a half, (S) was too young to participate and too young to go up on the bunny hills with (T).  He would enjoy playing in the snow and looking at all the cool sights. I was very comfortable with the child to instructor ratio. There were plenty of kids in the camp but each instructor was responsible for only 2 young skiers, which meant the kids were both safe and learning.  The kids were also broken up by skill level which allowed the instructors to really focus on progressing each child.  Parents were allowed to stay and watch if they wanted. (R) progressed through each phase of ski camp and by the end even had enough self-confidence to let go of the instructor and ski by herself.  (R) reported that she had a great time, but that the best part was hot chocolate at the end with her new friends (my social butterfly).  She was returned to us back in her own shoes and with a report card to let us know how she did. We had the option of keeping her equipment for the rest of the day at no extra cost but we returned it since we knew we would be hitting the biosphere after lunch.
 (R) all ready for her lesson!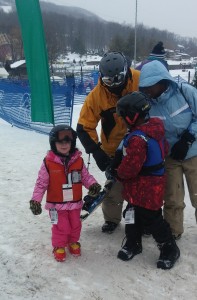 While (R) was enjoying Kids Kamp, (T) went to ski the black diamond slopes and reports back that Mountain Creek has nice runs.  He was also happy to see that the mountain uses half gondolas.  Not only does that get him up faster, it means they are aware that there are a lot of families and a gondola is better for a group than a chair lift.   After everyone was done with their skiing and lessons, we headed off to lunch in the lodge, which had both a cafeteria and several restaurants to choose from.  There was plenty more to do at Mountain Creek's main area like snow tubing, obstacle courses, night skiing, snowboarding shows, and more, but we had a different plan in mind.
Beautiful outdoor fire pit.
Think of the coolest indoor pool you have ever been to then combine it with feeling like you are swimming in a Hawaiian lagoon.  That's what it was like to swim in the Grand Cascade's biosphere. The giant pool was warm, surrounded by rocks, gorgeous foliage, an indoor swim up aquarium, with a water-slide.  (R) and (S) jumped right into the water with us right behind.  The kids were so excited to get to "swim with the flowers" they called it.  I was happy that the water was warm and it was a very relaxing atmosphere.  They provided us with towels and locker rooms so there was no need for me to schlep around anymore of our belongings.  The kids were absolutely mesmerized by the indoor/outdoor pool.  The pool was set to a temperature of 96 degrees and allowed us to swim in the snow!!  (R) and (S) had never seen anything like it before and it for those who have never tried it, it's a really cool experience.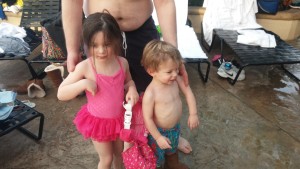 We were sad when our little getaway came to an end.  (R) and (S) made us promise to bring them back in the summer to experience the water-park and zip-line. We headed out around 5pm and were back home in time to make dinner that night.  What was really great was that throughout our visit we noticed many different groups of people there, not just families,  this is a getaway perfect for any stage (young adults, singles, couples, and families!  Mountain Creek Resort is a great place to visit!
All tuckered out and ready to head home.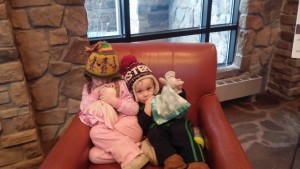 Made it through the whole review?  You will be glad that you did….. How about a lift ticket give-away (we have 3 we will be giving away!)?  Go to our Facebook Page www.facebook.com/rocknyom and "like, comment and share on this post" to be entered.  Don't have Facebook ( they are not affiliated with the giveaway)?  We still love you.  Comment on our Become A Part of RYNM page and tell us your favorite part of our site!