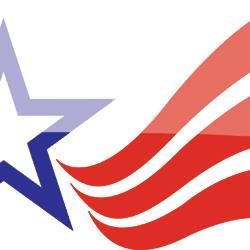 Disclosure:  This is a sponsored post.  All opinions are my own.  Todd Flesher is a certified teacher and although I have found his process to be educationally sound it is still up to the parent to interview and find a tutor that they find to be appropriate for your child's needs.
As an educator this is a super busy time for me.  Progress reports have just come back for the semester, and some students are struggling as the material grows in difficulty.  For those of us who have midterms, these huge cumulative tests are looming just weeks away and we are at a loss for what to do for our students.  I stay after school with them but there are only so many hours in the day.   That's where a good tutor comes in.  That is where Shining Star Tutoring come in. 
Shining Star Tutoring is a RocklandNYMom.com directory member and the man behind it, Todd Flesher, is a tutor extraordinaire.  Todd is a certified teacher who tutors in all subjects.  He has 9 years' experience as a math teacher, as well as a degree in administration.  Although Mathematics is a specialty he can help with all subjects including SAT Prep.  He is available 7 days a week and flexible on location.  I was lucky enough to sit down with this dedicated educator to speak to him about his tutoring philosophy.
Todd approaches each one of his students as individuals and focuses on their specific needs.  He uses common core aligned assessments to identify areas of need and remediates using the philosophy of teaching the whole child.  He is focused on connecting the information learned to the student, to making it meaningful and therefore creating an enduring understanding of the material. 
Todd uses a variety of ways to help his students to understand a concept.  As a math person myself, I took the opportunity to pick his brain about a topic that my students have struggled with in the past, equivalent fractions.  It's true that fractions scare most students.  I have joked with colleagues in the past about dressing as one for Halloween.  When I asked him how he would help a student who was struggling with the concept he asked me to wait for a second.  When he got up from the table I was unsure what to expect.  He returned with a bag of manipulatives, a good sign.  Todd is ready for student who have varying learning styles.  He continued to teach me as if I was a student who was struggling with finding equivalent fractions.  He first helped me to understand the terminology (the building block from which he could continue the lesson).  Todd questioned me until I was able to state that equivalent fractions were different pieces that made up the same value.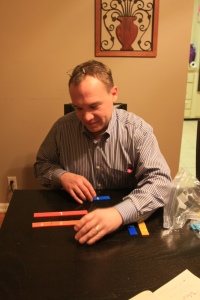 From there he was able to have me create some using the bars.  When I created the equivalencies, he then helped me to see that there was a pattern to them, a way to determine how to make one.  I was not only learning, I was coming to the conclusions on my own through his line of questioning (which of course he related to situations that would be easy for a student to relate to).  This type of learning is what we strive for as educators.  To have the time to help students to realize that they have all of the tools necessary for success and that all they need to do is draw upon those experiences and apply them.  Todd helped me to do that easily (and believe me as a fellow educator I didn't make it easy on him).
Todd is an experienced teacher who is has clearly joined the profession for the right reasons.   He is dedicated to helping students meet with success.  He reports back to parents on the progress that he is making with a student and helps them to work with the student at home as well.  He is happy to reach out to classroom teachers and make sure that they are on the same page.
If you are looking for a tutor and would like to speak to Todd you can call him on his personal phone (845) 461-7288, email him at TFleshe@yahoo.com or contact him through his facebook page Shining Star Tutoring.  He would be more than happy to assess your needs and work on a tutoring plan that will work for you and your child.