Disclosure:  This is a sponsored post as I was invited to the Mrs. Claus Story time event.  All opinions expressed are my own.  All photos were provided by Stefanie Murphy Media.  Although I took my own, hers were just too amazing.
There are so many options out there for Christmas experiences it's difficult to weed through them.  I am always on the hunt for something a little different, not the norm.  That's why when I heard about the story time with Mrs. Claus I was intrigued.  It just so happens that this event was a collaboration between three of our directory participants; My Sweet Pea in New City, Glamour Girls Parties, and Stefanie Murphy Media.  Knowing the quality of each of their work, I was very excited to attend and report back my findings of their first full collaboration (of many that I overheard). 
Why I loved the idea… I like that for a change we got to see the woman behind the man.  I like that it was a smaller more personal group (the event was capped at 20 children and their parents).  I really like that Stefanie Murphy Media was there, so I didn't have to worry about running around and getting the best photo of my kids to capture the memory.  I was able to sit back and enjoy the event and know with certainty that Stefanie would capture some golden moments (uploading them to a downloadable gallery for me, which is included in the price of the event) while I watched the magic.
Some of the amazing photos taken by Stefanie Murphy Media.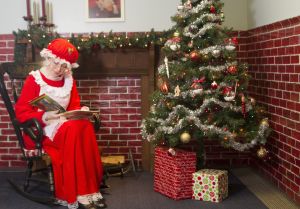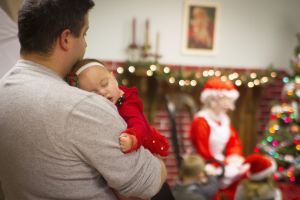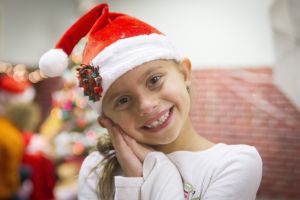 I've been to countless Santa breakfasts at places like the mall and other areas and most of us know how they run, I am going to try to focus on what was a little different and very neat about this event.  Mrs. Claus did interact with the children walk around and chat and it was very personal because it wasn't overcrowded.  Although there was plenty of space in the room for the children to wonder (and (E) did because at 18 months she doesn't sit well for long periods of time).  The children were not left to simply run around while having their snack.  The event which ran from 10-12 noon on 12/7 was structured in a way where we were able to get some great holiday pictures and the kids had lots of entertainment.
Mrs. Claus gives a big hug to one of her story time pals.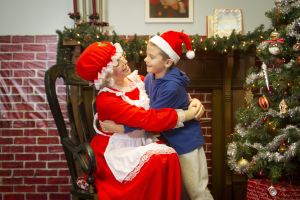 Some beautiful photos from the event.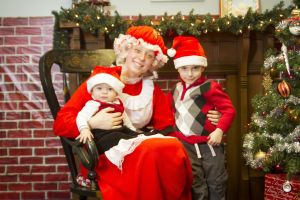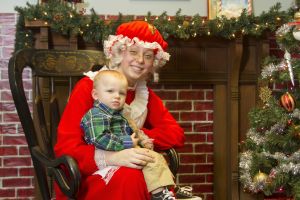 Upon arrival guests were checked in and received their Santa hats.  There was the option of embroidering them for an additional fee and although I didn't have it done I was wondering if I should have as they were adorable.  As people were arriving Mrs. Claus walked around and chatted with the parents and children.
Let's talk about Mrs. Claus.  Mrs. Claus was a fantastic find, Glamour Girls knocked it out of the park.  The dedication to realism was great.  She was there early and in character before anyone arrived.  She also stayed until everyone was gone to change back to herself so as not to ruin the illusion.  She not only interacted with the children easily, but she read them two stories, sang Christmas carols with them (she had a lovely voice click here to see video), danced with them, and also played a few games (Mrs. Claus says and freeze dance were awesome).  The entertainment itself lasted about 45 minutes to an hour (which as you know is as long as the kids could handle anyway), at which time the kids were able to have a snack, move around a bit and then prepare to have some private pictures with Mrs. Claus.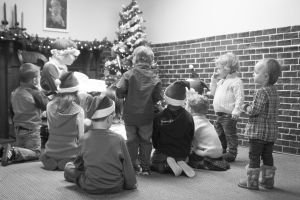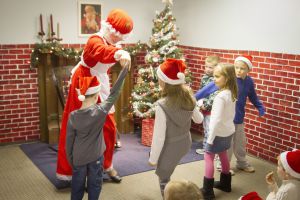 Click here to watch Mrs. Claus in action! 
All in all I would say they knocked this one out of the park.  It was easy and fun.  Upon leaving (A) was unable to pinpoint a favorite part, he simply told me that he had a really good time and didn't want to leave the store.  It was organized and adorable.  The staff was super friendly and had great rapports with the children.  I am very much looking forward to their next collaborative event which might just be in January.  Keep an eye out for them so you don't miss out!  My Sweet Pea has just introduced their new newsletter which you can sign up for by emailing MySweetPeaStore@yahoo.com .
Interested in Glamour Girls Parties, Stefanie Murphy Media or an event at My Sweet Pea?  Check out our directories for contact information!