Disclosure:  This is an unsponsored post, the items used in this post are just the ones that I happen to use.  All opinions expressed are my own.
"Marvin" our elf on the shelf showed up yesterday with a mission for the kids.  To create our annual family ornament using the supplies that he supplied.  In years past I had a plan when going into this, I would always know just what I wanted them to look like (of course incorporating their hands/feet/fingerprints).  This year we winged it.  with (A) getting older and being able to do so much more undirected I let him decide.  I love the outcome and hope you do too!!
Marvin's letter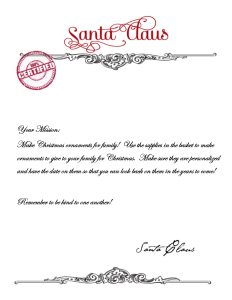 The supplies were actually purchased a year ago 12/27/13.  I waited for them to go on clearance and picked up enough for this year.  I then stored them with the Christmas stuff for the year.  I paid .96 for all 7 ornaments at AC Moore.  The paint I used was the  acrylic paints that I used on the last project.
The supplies Marvin brought us.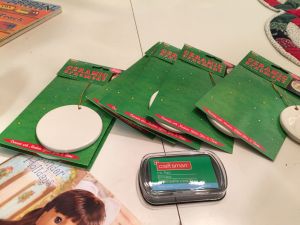 We spoke about the shape of the ornament (a circle) and brainstormed things that are Christmas like around the house that are circles.   (A) came up with a wreath all on his own.  Once he came up with that I thought maybe just green ((A)'s finger)  with some red ((E)'s finger) would be enough.  (A) wanted to make it more colorful so we incorporated all of the colors.  I love it!
(A) designs an ornament.  He practiced on paper first.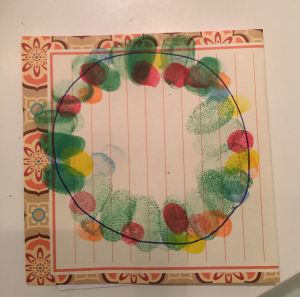 We started by placing (A)'s thumbprint all around each of the 7 ornaments.  At 4 he was able to do this by himself which was really great to see.  Once the greenery was done he and his sister used the different colors to make the decorations on the wreaths.
(A) and (E) decorate the wreaths.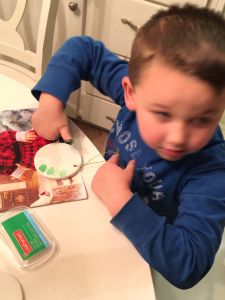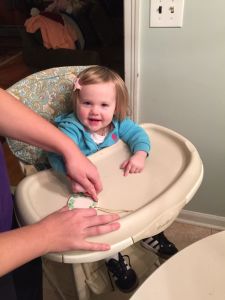 Done with fingerprints.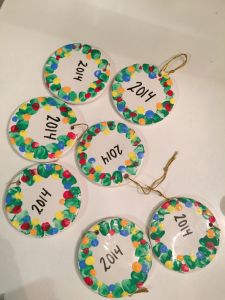 Once that part was done I added the "2014" and drew a bow on each.  I will be spraying them with quick drying lacquer to seal them up as a last step, I also wrote their initials with their ages on the back.
I really like how it came out.  Its tradition for us to make an ornament each year and I haven't been disappointed yet.  Now with (A) getting older and using his own creativity I see them really taking off!
Our finished product!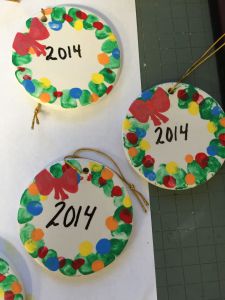 Merry Christmas!!!