One of the things that I am most proud of on our site is our Photographers Directory. There you can find a variety of styles and price points, along side of these talented ladies (just a coincidence) you will find samples of the pictures that they took of my children or family and a full review.  Some of what really impresses me about them is not only their talent, but their personalities, their hearts.  I am happy to say that through our interactions I am able to call these artists my friends as well as my associates. Nothing could make me prouder to call them friends than this new opportunity.  This season one of our participants STUDIO 3 reminds us what this time of year is truly about and provides you with an opportunity to tackle a few items on your to do list with panache. 
"HOPE for Brian"…it's a holiday MINI-session with a BIG goal and You can be part of it all!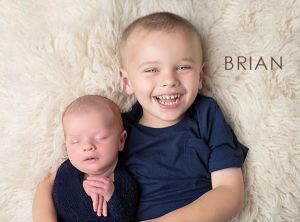 Disclosure:  This is an unsponsored post. All opinions are my own.
Last year, during the holiday season I introduced you to Studio 3 Photography who took some unbelievable photographs of my family during one of their famous "Holiday Minis".  Don't remember?  Click Here.  The piece and its corresponding article were a big hit, being printed in the local "Pearl River and Orangeburg Life."
This year, not only are they offering their mini-sessions to you again, but this year there is a bit of a twist.  They have decided that in the spirit of the season they will donate $50 of every session booked to the "Hope for Brian" fund.  Brian is a handsome little ray of sunshine that the trio was luckily enough to meet during a session.  Brian has a rare children's disease called Atazia-Telangiectasia.  Please read the following press release and even if you don't book a session, consider joining me in making a donation.
Studio 3 Photography Mini-Session Press Release
"Imagine a disease that combines the worst symptoms of muscular dystrophy, cerebral palsy, cystic fibrosis, immune deficiencies, and cancer. Children with A-T (Atazia-Telangiectasia) are usually confined to wheelchairs by age 10 and often do not survive their teens." –www.atcp.org
"Did you know there are only around 1000 documented cases of Ataxia-Telangiectasia in the world? 500 of them live in the United States" 
ONE is our neighbor. 
He is 3 1/2 and his name is Brian…
"HOPE for Brian"…it's a holiday MINI-session with a BIG goal and You can be part of it all!
What: Holiday MINI Sessions with a BIG goal 

When: November 1st – November 8th

Who: "Hope For Brian" fund

Where: Studio Three in Sparkill, NY

Why: Because 'tis the season to remember the people who allow us to do what we love every day and to help out where we can.

How: Register at http://studio3photographers.com/hope-for-brian/

For more information please contact Caitlin at Studio 3 Photography.

914-629-0068
caitlinfuster@gmail.com