Disclosure:  This is a sponsored post as we were invited for the day to LEGOLAND Westchester.  All opinions expressed are my own.
Friday, Day 5:  LEGOLAND Westchester
For our final daytrip adventure (looking for some, click here) we decided to stay a little closer to home.  Just a hop skip and a jump away in Westchester we are lucky enough to have an awesome place to spend the day.  It took us just 20 minutes by car to get there and we were so excited.  For his recent birthday (4years old) (A) received his first sets of LEGOs.  From then on he has been obsessed.  We have had to go to the store for countless sets that we need to construct.   What could be more perfect for a culminating trip than a trip to a world of LEGOs? 
Right from the get go it was amazing.  You have an opportunity to pose for a silly LEGO picture that you can purchase as a reminder later on.  We HAD to do that (photo obsessed??).  Then you get to go inside and experience an interactive presentation on how LEGOs are made, you even get a small painted LEGO as a souvenir!  From there the real fun begins.  You get to go on a ride that had all of us engaged and smiling (ages 12 months to 30-some odd years old).
The family gets ready for our first ride. (Riders must be able to sit by themselves, I held (E) just for the picture)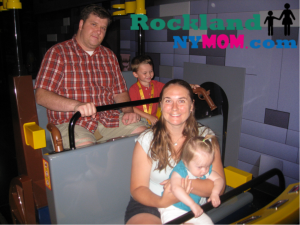 Once through you have the opportunity to view and purchase your photos… You get to marvel at the creations of the masterbuilders throughout (I won't spoil all of that for you by telling you what they are).  It's truly awe inspiring.
(A) plays with one of the interactive displays put together by the Masterbuilders.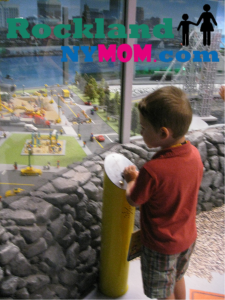 There is much to do for so many different ages.  It would be difficult to name them all so I will name those that (A) and (E) enjoyed the most.  There is a really cool indoor playground that (A) could have run around all day.  There are even giant rubber LEGO's in there to play with.  That is in the center of the other action, so you can always return to it.  Circled around the room are some interactive play areas where you can build and test your creations for speed and stability (a little mature for (A) right now, but I am certain he will truly enjoy soon).  There is also a play area for little ones that (E) really enjoyed, a play house with fun activities (even a little karaoke…), another cool ride, a special movie, and a ninja training camp.  Oh yes and in case you get hungry, there is also a café.
(A)'s favorites… The rides, and ninja training camp, oh and he says also the playground (and the store).
(E)'s favorites… Climbing in the LEGO pits, and running around, also riding the masterbuilder creations.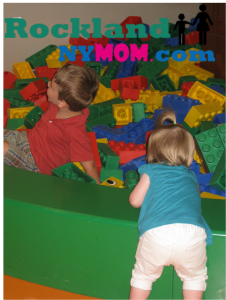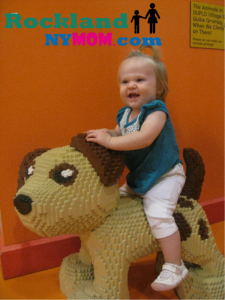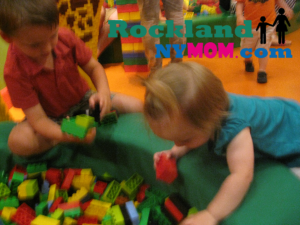 As you can read, there is more than enough fun to keep you busy for hours (I believe we were there for 4 and a half, which was (E)'s limit but (A) would have stayed longer).  What is great is that you can stay and revisit rides and exhibits as many times as you like.  The lines were relatively short and there was a lot to look at while you wait.
When you are done running around you exit through the LEGO store, where they have so many different fun sets and accessories you can choose from (we assumed this in advance and saved a bit of his birthday money for him to choose a set to bring home).  (A) chose the castle set and even RocklandNYDad (RNYD) got in on the action (being a big kid himself) purchasing a superhero set to play with.
What is super cool about LEGOLAND? They have a schedule of special events that happen all of the time that you can see.  Including (but not limited to) a Star Wars themed day (oh my, that would be heaven) AND they even do grown up nights for big kids (like RNYD) so that they can go and play too.   If you don't have kids and would really like to check it out, make sure that you wait until one of those scheduled nights, adults are not permitted out without a child escort.