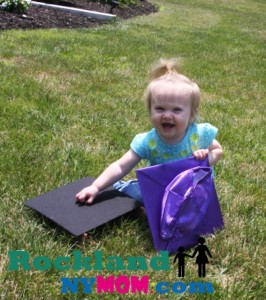 Disclaimer: This is an unsponsored post. This article is intended to be a general resource only and is not intended to be nor does it constitute financial advice. Any recommendations are based on personal, not professional, opinion only. Past performance is not indicative of future results. For illustrative purposes only.
Last month, we published a much anticipated Money Momma column regarding some useful information about 529 plans. Since so many of our readers were seeking additional information, this month we strive to answer questions regarding what type of investments are right for a 529 plan, especially for a resident of NY State.
The reality is that there is no single easy answer to this question.  It mostly boils down to knowing that "it depends".  In fact, it actually depends less on what state one resides in and more on the current age of the student and the risk tolerance of the adult account owner.  This means that the "best" investments are often different for every situation and every family.   Flesher Financial Services can review any personal situation in detail and determine which investments are best for a particular 529 plan.  However, here are some general guidelines to follow.
Your State:
Depending on the state of residence, it may be a good idea for tax break reasons to use a state run 529 plan.  For example, New York allows 529 contributors to deduct up to $5,000 per person ($10,000 for married couples) in contributions to the plan.  For most families this is a substantial deduction, especially since one does not have to itemize the rest of their deductions to take advantage of this tax break. So, even if nothing else can be deducted, these contributions can still be deducted from your gross income.
Age matters: 
The number of years left to prior to a child entering college is an important factor when determining what the "best" investments are.  If there are several years (5+) before these funds are needed to pay for college, a little extra risk can and probably should be afforded. When a child is younger, the primary goal of a 529 plan is to grow in value so that there is enough money to pay for college.  This means taking on risk in an effort to reap investment reward.  However, once a student gets closer to when these funds will be needed to pay for education, the primary goal of a 529 plan becomes preservation and risk should be reduced.
Comfort level:
Risk tolerance of the account owner, usually the parents, also plays a role.  Even if aggressive growth is the goal of the 529 account, it's not always symbiotic with the account owner's ability to stomach account value fluctuations.  If opening a statement to discover the account has lost 20% one year is something that sends your family into a meltdown, aggressive growth is probably not the best choice even if it numerically makes the most sense.  Account value fluctuations are going to happen; it's a fact of investing.  But for those who feel extremely risk adverse, walking away from some upside potential may be worth it to avoid the potential for a larger account value swing.
As always, these are just general guidelines.  Every situation is different and should be evaluated in detail prior to investment decisions being made.  Contact Jamie Flesher at NYMoneymomma@gmail.com, Jamie@flesherfinancial.com, 917.647.8267, or comment below for more information about your family's 529 plan investments.