Disclosure:  This is an unsponsored post, all opinions expressed are my own.
I am very type A (in case you hadn't figured that out yet).  I like to do things, lots of things, and all on my own.  There are times that I have bitten off more than I can chew and still somehow pull everything off.  There are times that I have to leave something by the waist side and the only person that it matters to is me, because no one ever even knew that it was supposed to have been done.
I am never more crazed than during the end of the year.  Not only am I a teacher who has final exams and paperwork and meetings to complete, but both of my children are born at this time.  Exactly seven days apart.  I will go into more detail on my crazy planning stages and the things that I have done for them this year in a later post, but this one is specifically about (E)'s highchair.
One thing you may want to know about me is that I also love old stuff… well sturdy stuff… I constantly search for old furniture, they just don't make it like they used to.  I prefer to buy old and refurbish than waste money on new (unless is upholstered, that makes me a little nervous).  My favorite pieces are those that I have found and given new life to, even when it took me several months to find the right drawer pull to match a set I had…. But I digress…
I had two highchairs, one Graco one that matched my other baby stuff and also a wooden Eddie Bauer chair that was a hand me down from a friend.  I used one in the kitchen and one in the dining room.  With the addition of another child though I had to put the leaf into my kitchen table and all of the sudden the Graco one was too big for the space.  Glad to remove some stuff (crap) from my house I sold the highchair and made some room by replacing it with the Eddie Bauer one which is sturdier and has a much smaller footprint…  The only problem was that I never liked the color of the chair being a light wood, it did not coordinate with my kitchen décor.
A before picture, see the test strip, that's when I chickened out…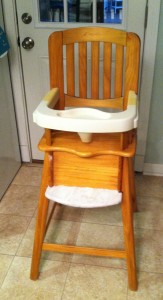 So, being the type of person that I am I purchased some chalk paint and decided to paint it myself.  I did a test strip one night, but then I ran out of time to work on it.  Well, next thing you know I am two weeks away from (E)'s first birthday party and she has a partially painted high chair for her first birthday party.  UNACCEPTABLE!  I had no idea what to do and since (A)'s birthday was before hers I knew I didn't have enough time to paint it, even as crazy as I am.  So I did what any good manager would do, I outsourced.
I have been a big supporter of Underground Finds & Furniture because I really don't think that they make furniture the way that they used to anymore.  I hate walking into a furniture store and feeling like a strong wind will knock down a dresser.  I love the old lines of pieces even if I don't love the finish.  I have so many older pieces in my home, which I have repurposed in one way or another (in fact just this week I got in trouble at the local Habitat for Humanity Restore where you can find old sturdy furniture that others donated).  That is exactly what Mary does.  She takes old pieces and gives them new life.
Knowing that I wanted a distressed finish for this piece I called Mary and got a quote for having it painted white, with some dark distressing ( I love that old world shabby chic look, which of course just happens to be the theme for the first birthday party).  The price was so much more than reasonable so I agreed to have it done.  Mary had it painted and back to me within 3 days and it's beautiful!  It is exactly what I had envisioned when I first set out and purchased chalk paint.  Mary painted it and tried out some of the distressing and then sent me some pictures for approval.  At first she and I decided that it needed a little less dark wax (there is a fine line between distressed and dirty looking) but after she tweaked the recipe it came out amazing!  I am so glad that I didn't try to do it myself, because I am not sure that I had the time or patience to get it looking just so!  It coordinates so nicely with my kitchen and also my party theme (see pictures).
A close up of the craftsmanship.  I absolutely love this aged look (if you aren't a fan, Mary has clear wax as well).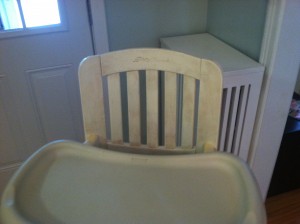 Here is the chair with the custom new cover that I ordered from Etsy (sewingsillysister).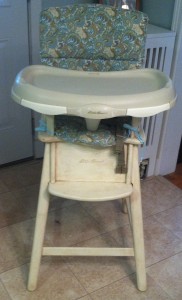 The side view of the chair.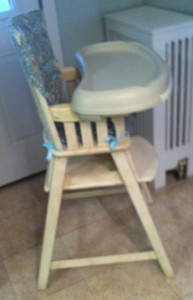 A picture of the chair in action, from (E)'s birthday bash.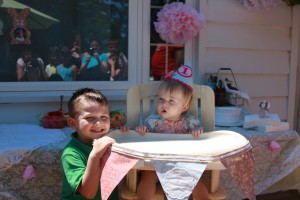 Overall I am so very pleased with the whole process.  Mary was so sweet with tons of communication.  She made sure it was exactly what I was thinking of.  It was done in a super timely fashion (thank goodness because I didn't have a chair for her birthday unless it was!). It is also well done.  You can see the time and effort that Mary put into the chair with each stroke or brilliantly placed waxing.  I love it and I highly recommend her services.
Have an old piece that you love, but it doesn't go with your décor?  Looking for something special and having difficulty finding it?  Contact Mary at : mdm441@gmail.com or on her facebook page: https://www.facebook.com/UNDERGROUNDfurniture.