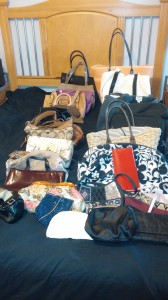 Disclaimer:  This is an unsponsored post.  This article is intended to be a general resource only and is not intended to be nor does it constitute financial advice.  Any recommendations are based on personal, not professional, opinion only.  Past performance is not indicative of future results. For illustrative purposes only.
Think about the number of purses and pocketbooks you own as a mom.  I quickly counted the other day and my collection totals 23 pocketbooks in various styles, colors, designers (from Louis Vuitton to Target), and of course, uses.  A closer look shows that the pocketbooks seem to fall into 3 categories: everyday use, purpose driven, and finally special occasion.  Each category of pocketbooks has its own purpose and we carry them accordingly.  We would not want to carry a formal evening bag to take our children to the park.  That would make no sense.  Your finances should be treated similarly.  Each category of money has its own purpose and therefore should be treated accordingly.  This month, the Money Momma explains what she calls the Pocketbook Policies; a guide to viewing your money in terms of function, just like your purses and pocketbooks.
-Written by Jamie Flesher, New York's Money Momma
The Everyday Pocketbook (Purse #1): the bags that get the most wear and tear and we use them often (this is a diaper bag for me).
This is your checking account.  The money in this account gets used on a daily basis.  Paychecks typically come in and regular monthly expenses; mortgage/rent, food, car payments, household bills etc. come out of this account.  What is unique about purse #1 is that the money ebbs and flows on an almost daily basis.  Money is constantly flowing in, and constantly flowing out.
The Purpose Driven Pocketbook (Purse #2):  fashionable computer and work bags, gym bags, beach bags etc.
This is the savings account or safety net, that hopefully has 6 -12 months' worth of expenses being housed (see "How Prepared Are You?"). Even if the account does not have a full 6 months, it is still the account that gets used when there is some type of large expense coming up, such as a home renovation or loss of a relied upon paycheck.  This also applies to your vacation or holiday club accounts.  Money hangs out earning a little bit of interest and just waiting until it is needed.    If money is coming out, it's for a very specific reason that is not part of your everyday spending.  Was there a loss of a household paycheck?  In that case, slowly pour the contents of the purpose driven pocketbook, into the everyday pocketbook, until that income is replaced.  What is unique about purse #2 is that if you put a dollar in, you will get a dollar out.  There is no investment risk in purse #2.  This is simply an interest bearing savings account.
The Special Occasion Pocketbook (Purse #3):  the dressy bags we bring out only once in a while for events such as weddings, parties and date nights
This is your investment account that holds assets that can fluctuate in value such as stocks or bonds.  401K accounts typically fall into this category of pocketbook.  I call this the special occasion pocketbook because it rarely comes off the shelf. Money that is put into these types of accounts is money that is going to be there for at least a five year period (that's an estimate) without any need to be withdrawn. What is unique about purse #3 is that it's the only one of the 3 that has risk. If one dollar is put in, it's not guaranteed that you will get that dollar back out.  Stocks don't always go up in value and therefore there will be periods where this pocketbook actually goes down in value.  That is why I advise clients to leave it on the shelf for 5 years.  On average, that is how long it takes to move through a full market cycle and see an increase in value.
The key to making the Pocketbook Policies work is to know how much money should go into each purse.  To begin this process you should create and track your monthly budget.  This will help you to get a better idea of how to save and make realistic changes in your spending.  The Money Momma's firm, Flesher Financial Services, has a special formula that we use to help figure out which purse should have which funds based on your family's specific needs.  Jamie Flesher can be contacted at nymoneymomma@gmail.com, or 917-647-8267 for any questions regarding the Pocketbook Policies or assistance getting your financial purses set up.
Remember, submit specific topics you would like to see the Money Momma address to nymoneymomma@gmail.com or RocklandNYMom@yahoo.com.