Adding a 91 lb Chocolate Lab.
Disclosure: This is a sponsored post as I was invited to a session with HoneyBee Photography NY. All opinions expressed here are my own.
My obsession with amazing photographs is no secret (an entire page dedicated to my photo obsession??). To that end I feel it is super important for all parents to know about the amazing opportunities out there for documenting the growth of your families, the special events, etc. Even more important to me is that everyone know that you don't have to use a large chain to do so. Many parents are under the impression that the only way to get these beautiful photos in an affordable manner is through one of these chains, or online coupons. That is so far from the truth. Photos should be more personal than that. I am completely honest when I review or if asked about who to use for what type of photos, that is how important it is to me. I took pictures with a Groupon at JCP in the fall. The pictures were fine, very nice, would have really liked them if I had never done private photos. BUT there was an assembly line feel that I didn't love. You are in and out and there are people waiting and distractors, and you have to choose right there and they try to upsell you. Not for me, I upsell myself without any prodding needed, believe me.
Here's what I like about hiring a private photographer. It's personal, you aren't just another number, another sale…. Take my amazing experience with HoneyBee Photography NY this past weekend. I met Jen online after seeing some of her pictures and specials posted. Once we connected we decided on a date. Jen does on-location shoots. This means that she either comes to your house or you decide on a venue to take pictures. I don't have great lighting at my house indoors for photos, and my yard is not yet in bloom (delayed spring?) so I left the venue up to Jen. She chose Peck's Pond in West Haverstraw. I had never been there before, but will be back. It's a great little pond with a park and its dog friendly which is great for us. Duncan (my 91 lb Lab) is like my third child, or my first if you want to get technical. Since we were working outdoors I wanted to include him if possible, so I asked. Jen was happy to oblige. She said it would be great. I was impressed right away that she was willing to take on the task, a 9 month old (she recently discovered motion and never stops), a 3 year old (who is tired of taking pictures since mommy is obsessed), and a 91 lb dog… That's a lot to tackle.
During our exchanges I asked her what types of ideas she had and Jen emailed me samples of her thoughts right away. I loved the ideas, very organic. Then of course the day of, (A) decides that he needs to bring his Acoustic Guitar. I am panicking (planner that I am I hadn't thought about it), how will I get it away from him, how will we incorporate it and the dog??? Is it too much? Nope. Jen was more than happy that (A) had decided to bring a little of himself along, and added it right away, earning some of the cutest photos. They really show his personality (really you should see the one where he is trying to take the guitar away from his sister). At first Duncan was difficult, new place, water, ducks, so many smells, he did not want to sit still. But after a bit he settled down and Jen was able to capture a phenomenal photo of my three children.
Jen has the patience of a saint. (A) was not in the mood for pictures that day (my mother blames my constant picture taking). She was able to get him to cooperate easily, getting him to pose for several more shots than I would have been able to get him to do. When we walked from spot to spot, he wanted to hold her hand, and she had no problem with that either.   She captured so many fantastic moments with the kids together (thank goodness) that you would never know he was being less than cooperative.
Then there are the pictures; they speak for themselves (see below). They are amazing, so natural and so perfect at the same time. I can barely choose which ones are favorites. It's so great to see the kids with each other, you can really see their relationship in the pictures. I was sent a link when the pictures were ready, along with a password. If I forget the link, I can reach them from the "client access" section of her website. I can view all of the pictures right there, and order prints at the same time.   I can open them later to look at with a friend when I am having difficulty making my choices. There is no pressure to purchase and no one watching you as you choose.   If you buy a few and love them and need some more, you can log back in and order again. Looking for a canvas, they are on there, as are ceramic tiles, key chains, t-shirts. A myriad of choices.
With the session you also get 5 digital shots emailed to you with a letter stating that you have the rights to those photos. You can then upload or bring a CD to your favorite place (Shutterfly, Walgreens, CVS, Snapfish, etc.) and order even more items. The possibilities are endless.
HoneyBee Photography runs specials often, different ones at different times of the year to help you to capture those moments in an affordable manner, so you have to go back often and look (also posted on our site). The icing on the cake is that for less than I spent once I was done with the Groupon from JCPenny I have all of these options and the personal attention that Jen offers.  The choice is obvious.
To see HoneyBee Photography's current specials CLICK HERE.  You can also contact Jen through her website www.honeybeephotographyny.com or on Facebook at https://www.facebook.com/pages/HoneyBee-Photography-NY/628693593813915?fref=ts
A beautiful picture of (A) and (E) on a park bench!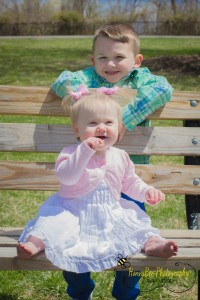 (A) shows (E) how to play his acoustic guitar.  A common picture in my life, he is so patient with her.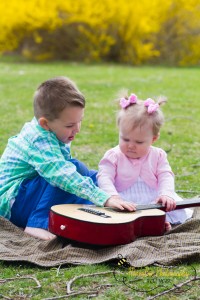 (A) goofs around in the gazebo.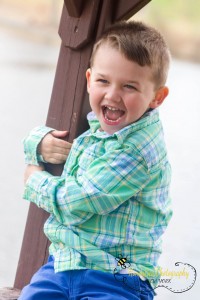 (E) is just learning to walk at 10 months, (A) helps her along. So sweet!!!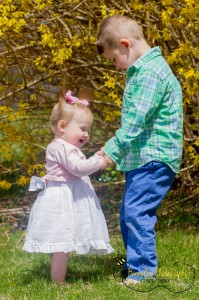 The perfect photo of my three kids.  I am so in love with this one.